You warned me not to touch your tools while you were at work. But the faucet was leaking, and I thought I would try to fix it so that the dripping sound wouldn't drive you over the edge tonight while you are trying to sleep. I knew you would be angry that I touched your tools, but I figured it might be less angry than being kept up all night, so I took a chance. I barely got myself situated in the bathroom, and you came home early. I didn't even hear you walk in the bathroom, so when you grabbed me by my hair I screamed.`
I rolled over onto the floor and you looked down and saw your pliers in my hand. Your eyes went dark and I saw your rage instantly. You let go of my hair and slapped me so hard across the face with the back of your hand that I saw stars. You told me what a worthless fuck toy I was, and how dare I touch your tools. I tried to drop the pliers, but you grabbed them from me instead. My head was still pounding from the slap, and as you attacked me from above, I was defenseless.
You grabbed me by the throat and told me to spread my legs. I had no choice other than to do what you said, I am your slave. I begged you not to hurt me and you laughed your evil laugh. I saw you still had a hold of the pliers and even though I knew what torture lay ahead, I spread my legs for you. I felt the cold metal on my pussy, and I begged you to stop. I know you only get more torqued up when I beg, but I couldn't stop myself. You grabbed ahold of my clit with the pliers and pinched them down with all your strength.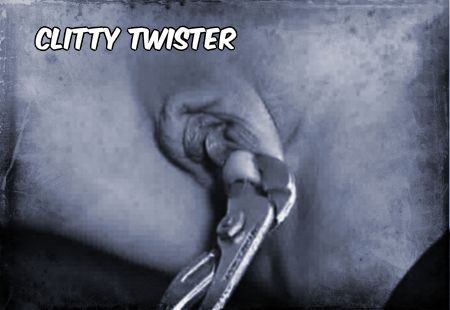 It felt like my clit was going to pop off, and fire shot through my body as I came all over myself. You laughed and laughed and then began to twist the pliers – yanking my clit a full 360 degrees. I knew you were going to twist it off. I closed my eyes and took a deep breath. I began to cum again as you twisted another full circle. I felt the blood and cum mix together and run down my ass cheeks. You let go of me, and jerked your hard cock off all over my limp body. You calmly put your pliers back in your tool box and left the room.