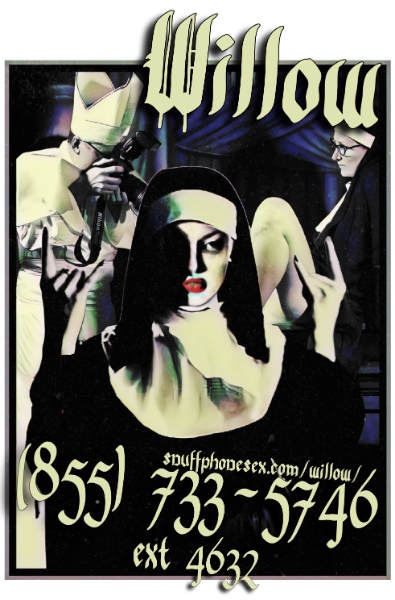 Nothing satisfies my scarred soul more than making a man of the cloth go against his vow of celibacy and have some sleazy blasphemy sex with a naughty nun!  Those pretentiously pious closeted freaks want to get down and dirty just like the rest of us so I do my part and instigate as much insipidly immoral faith testing fucking as I can to help them be the complete humans we all yearn to be.
It takes a couple of months to infiltrate any church and get in with the priest to the point that he trusts you.  You'd be amazed what you can do with a fake habit and a falsely devout attitude to match.  After a little bit of humbling myself before them, I earn the trust of every last god fearing follower of Christ's teachings in the church.  That's when I start to mix shit up.
Planting sexy seeds of seduction is my specialty.  You can't be overtly sexual and blunt with anyone in the church, you have to be tricky with your words, plant subliminal messages that tickle the deep carnal desires that they've been forced to suppress for years.  There's a glimmer people get in their eyes when they get turned on, a certain kind of shine.  I just wait for their subconscious selves to process the dirty codes I planted in them and watch for that look in their pupils, then I strike.
The next step… Drugs.  Fuck yeah.  Spike their drinks with a little molly, wait for the shit to kick in then I show a little skin.  Priests can never look away from a bare body part anyway, even more so when they're all drugged up.  Bust out a camera and that prayer leading pervert will be taking pictures of his nuns in no time.  It doesn't take long for the poses to get more and more sordid and sleazy.  Eventually, blasphemous boudoir pic taking turns into full on priestly fuck pig cock pleasing and nasty hairy nun hole stretching and boom, we have a successful sacrilegious sex down.
That's when I take the camera and shoot some crazy, christ loving, cunt pounding pics of my own.  I always wait for at least one nun to get blasted with a juicy cum shot but I dip out of the place before they're done.  Easier to slip out that way.  After I print out the pictures, I have all of the blackmail fuel I need and can make anyone in the church do whatever I want them to do.  I've even made an archbishop torture and kill some of the bound fuckpigs in my basement while I filmed it, people pay big money for snuff porn starring a cunt crushing cleric.