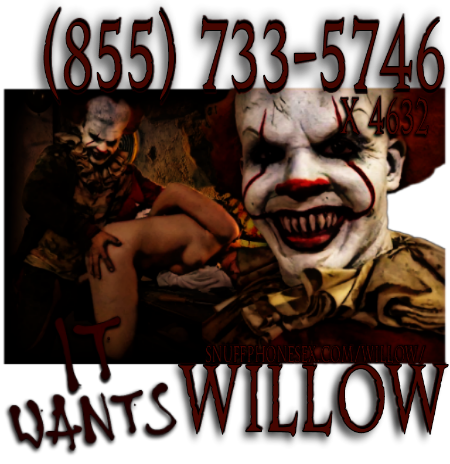 Every now and again one of my rape phone sex fantasies comes to life and I have the Deadlights forcefully fucked out of me by a demonically monstrous clown.  Getting raped by the physical embodiment of cosmic evil would mess most people up pretty badly, scar them for life if not flat out scare them to death.  Not me, though.  Somehow, I'm pretty sure that I'm the one who keeps conjuring IT up out of its hiding spot and I'm fairly certain that IT likes my style.
It's no secret, I'm a little psycho.  I think the world has too many fuck pigs on it and very few of them are worth the precious air that they breathe.  It's my duty to take out any and everybody that I don't feel is worth the very space they occupy, but I absolutely have to scare the everloving shit out of them before I do.  I love it.  That's also the very thing which, I'm guessing, makes IT love me.
The first time I saw him was a couple days after I took out a dozen drunk dipshits drinking themselves into a belligerent stupor down at the pub.  Quick hatchet job, complete bloodbath.  I was still reveling in the excitement when a stupid looking clown showed up on my doorstep.  He said his name is Pennywise the Dancing Clown and he was there to help me celebrate then pulled out his prick and started waving it around at me.  I said "Wrong house, Bozo." and shut the door, but when I turned around, he was standing in my foyer.  Color me intrigued.
His mouth opened wide unveiling row upon row of sharp, pointed teeth and a bright light shined out from somewhere deep inside of his throat.  As his jaw extended out further, he slowly crept closer and closer, trying to stoke up some fear in me before he did whatever he was going to do to me.  Eat me, fuck me, turn me into a weird clown demon, whatever he had planned, Pennywise wanted me to be scared while he did it.  It didn't work.  I reached up, honked his nose and said "Neat trick." then slapped his schlong around a little.  
Ever fluster a cosmic entity?  It's pretty fun.  When revealing himself to be a beast of unknown origin didn't succeed in scaring the piss out of me, he got a little mad.  That's when IT started manhandling me and telling me he was going to fuck the fear into me.  Now we're talking.  I had never been violated by a violently crazed clown creature before, it seemed like it could be a good time.  Hell, I'll try anything once.
I got bent over, twisted around, pinned down and forcefully fucked by that crazy creep.  Pennywise pole feels great, he really knows how to ram it in there just right.  Every now and again he'd mutter something to himself about turtles or mention his brother and really wail away on me, that was amazing.  I love being hammered so hard that it feels like that cock is going to rip right through me.  That demon definitely did not disappoint.
Since then, I noticed that he comes around every time I do some real damage and take out a bunch of fuck pigs all at once.  I dig it, sometimes IT appears to me as one of the people I just killed and he hate fucks the holy hell out of me while shifting into various victims of mine.  One time he thought he was going to shock me by becoming my dad while he was pounding away at my perfect little pussy.  I didn't sweat it, I just clawed his eyes out again like I did years and years ago to the real McCoy, only this time, I made him keep fucking me while he screamed in pain.  Cathartic as hell.  I don't know where he comes from but one thing I know for sure is when he comes around, we fuck.  We all fuck, down here.