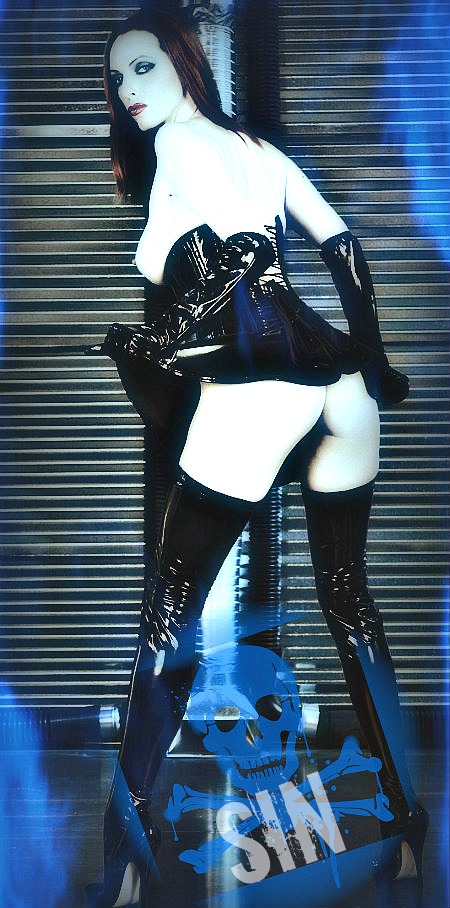 Last night it was brought to My attention that I have never given even the slightest view of My ass in any of My pics.  Since the phone call started out with Me smothering this person, I thought it only fitting to show a picture of My perfect ass.  There you are, I hope you enjoy it, it will be a long time before it is seen again. 
Now, onto what this is really about, which is one of My all time favorite subjects, Castration.  Not just your every day surgical castration mind you.  This has a specific twist to it.  Last night during the aforementioned phone session, as I was pushing the weight of My full self down upon an uplifted face so I could cut off the breathing, I began to run My nails over this person's ball sack.  Far be it from me to leave it at that.  I took it one step further. 
I keep My nails sharp, you never know when you might need a weapon, and good strong nails can come in handy if need be.  I pressed first against the underside of the thin skin, adding more and more pressure until it ripped.  Then, I went onto the other side of the sack.  I applied steady, hard pressure until once again, the skin gave way to allow Me to bury my nails inside.
He started to thrash about, which made me grin.  I wanted to do more then simply give him a cause to get stitches.  I wanted to obliterate the very existence of his testes.  I crawled between his legs, lowered My head, exposed My teeth, hooked the skin on my eye tooth, and pulled back.  The fragile skin pulled away, ripped, tore, and ended up just being a flap over the objects that poured out.
I saw what I was looking for, I lowered My head into the muck.  I came up with one mother of pearl colored testicle in My mouth. I looked at him before popping it between my teeth and spitting it upon his chest. Then I went back for the other.   This one I kept tightly wedged between My teeth as I started My ascent up his body.  By this time he was shaking, his breath was shallow and rapid, the pain was washing over his face.  I hovered over him, pressing the testicle to his mouth.  I instructed him to open up, he did so, both him and I together bit into it, it was immediately decimated, which made this the most glorious kiss I have ever experienced in My life.