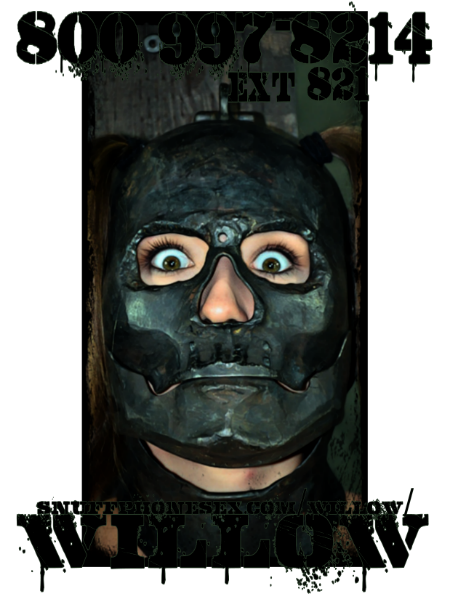 All of these little goth teen phone sex bitches who think they have dark souls because they had a rough life need to get a fucking clue.  And I'm going to give it to them.  Those gloomy girls need something to cry about other than mommy and daddy not giving them as much attention as they'd like.  So, as it goes, I'm going to give them some attention that they'll definitely hate to ensure that their dim outlook on the world is well founded and that the crocodile tears they love to cry are filled with pain.
Imprisonment works wonders for making a tragically gothic styled girlie feel the bleakness of their bland and boring daily lives.  I keep them locked up for a couple of days without any contact with anyone, even myself.  48 straight hours of solitude in a dim and dingy basement is living hell for a teen slut.  No texting, no social media, no parents to get into some weird, angsty fight with.  Just their completely naked, stripped down selves in an empty cell.
When I finally show up in their cold little prison, they always start crying and pleading with me to let them go.  Always.  I tell them that I will in due time but they aren't ready to be released yet.  I'm not lying to them, I mean it.  I like the potential in them, they just need some help realizing it so they can live a truly melancholy life of gothic misery.  I want them out there in the world spreading their little bits of misery to everyone, but first, they have to learn their lesson.
When I strap them down, they fucking lose their shit.  Those mere moments of freedom between the cell and the Saint Andrew's cross I lock them up on for proper torturing purposes gives them a glimmer of hope, but the iron shackles locked tight around their ankles and wrists rips it away instantly.  Sometimes they get violent and try to bite or headbutt me, it messes with them so much.  I get it, I don't blame them a bit.  But I can't be getting knocked out by some random slut's oversized forehead or what have you, so I encase their cabeza's in a big heavy skull mask.  Cools their jets instantly.
From there, I shove a fat black dildo that I attached to the end of an ax handle deep into their counterfeitly catastrophic cunts and take them through whippings and beatings with various tools and implements.  Wooden spoons and stinging nettles are a pretty fun flogging combo.  For me, anyway.  I'm also fond of taking handfuls of thumb tacks and throwing them at my captives as hard as I can.  Leaves really cool marks and sometimes I even get some to stick, it's pretty fucking funny.
As promised, when I'm satisfied with my work and am certain that they'll never forget the time they spent with me, I take them out to a completely random location and let them go.  What they do and where they go from there is up to them.  I like to think that they go on to spread real pain and suffering throughout the world instead of the fake as fuck, woe is me grim and gothic phone sex shit that they did in the past.  We'll see.