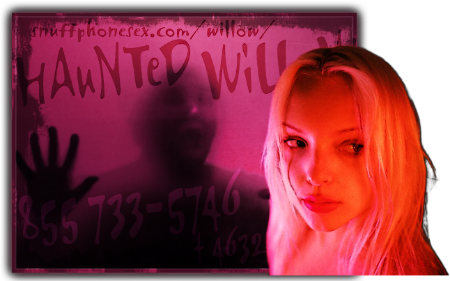 I'm haunted by all of the spirits that got trapped in my house of horrors during all of the cum and blood filled rounds of torturous and treacherous gothic phone sex.  I can't get away from them, they're always around to make my life a living hell.  Probably because of the horribly sadistic and violent ways they died here in my happy home.  
I didn't snuff out all of them, but I definitely facilitated their fucked up finale's.  That's enough to keep their focus on me for my foreseeable future and potentially the remainder of their afterlives.  I knew what I was getting into when I started living the way I do, there's a lot of dark shit that goes along with my lifestyle.  I didn't know I'd have so many pissed off ghosts literally living with me from it all, though.
In my opinion, all of the little fuck pigs that get fucked to death under my roof are lucky.  When you die, wouldn't you love to go out while you're getting banged?  A lot of my victims get to live out that fantasy.  Or die out that fantasy, as it were.  How many people get to take their final breaths while they're being forced to have multiple orgasms?  Don't all whores want to die while they're cumming?
I'm not going to stop, these spunk covered specters don't scare me.  They annoy me.  What are they going to do to me, they're fucking dead.  I'm going to step up my witchcraft game and clear them out with my own will, just like I did with their lives.  In the meantime, I'll keep adding more cum covered ghouls to the group.