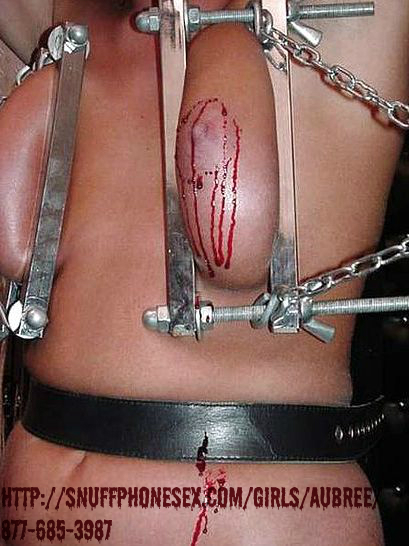 I woke up to find myself tied, upside down, to an inversion table. My tits were clamped with metal that was cool to the touch, and the pressure was torture. The pain…
I was blindfolded and gagged. My body was on fire, all of senses heightened and I could smell…blood. My breath and heartbeat quickened. I've never been so afraid and turned on at the same time. I wanted to scream, beg for mercy but could not say anything. I was at the mercy of my torturer. Suddenly I felt electricity touch my thigh and I tried to scream out, but I just made a muffled sound. Next, the electricity touched my clit, sending me to another place, a place where pain and pleasure meet head on,and I began to sweat and cry. I was flipped back around so that some of the blood that was rushing to my head flooded the rest of my body and I didn't feel so…confused. A man's voice, which was so deep and scary, said to me, "Shut your cock sucking whole, bitch or I will really give you something to cry about."
A few seconds went by. What was going to happen next? I felt something spread my ass cheeks wide, and something huge entered my ass and began to fuck me with a fury like I've never felt before. God, it hurt. I could hear his breathing quicken. I knew he was about to use me for his own pleasure. Sure enough, just as another jolt of electricity touched my left tit, he entered me with his cock with the dildo still in my ass. He fucked me hard, and slapped my face repeatedly. He then began to choke me, and I felt an orgasm wave over me just as I lost consciousness.