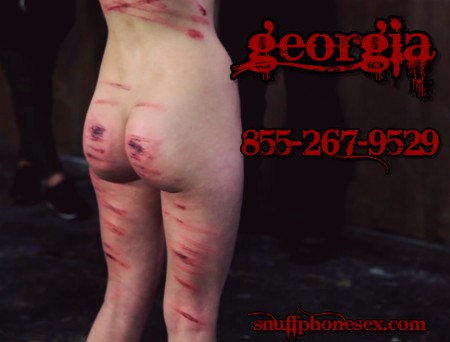 I haven't been doing well in school. My grades are bad, and I've been getting a lot of detention. My daddy spanks me every time he gets a phone call from the school but apparently, I needed to, "be taught a real lesson." When my principle called about catching me fucking a boy after school in the stairwell, Daddy became furious. He dragged me down to the basement by my hair. My scalp and body was on fire from being dragged on the stares and cold concrete.
He then ordered me to strip naked. He set up a camera, told me he was going to bring some people who can teach me a lesson and left me in the cold dark basement. I stood for hours shivering. When the door opened, my daddy and a few strange men walked in. They had tools and chains with them. "Clearly you're not good enough for school. The only thing you're good for now is to be our little fuck toy," one mad said.
Big wet tears dripped down my face. They had me stand front and center for the camera. Daddy said they ran a live stream so that everyone would know how much of a skank I was. Daddy took out a long leather whip and began lashing me as hard as he could. I screeched in pain. My skin went from red to split open with every lash. Snot dripped down my face as I begged for him to stop. But him and his friends just laughed.
Daddy and all of his friends cut and whipped at my skin until I was various shades of black, purple and red. Then he ordered the men to live out their twisted rape fantasies me until my cunnie and rosebud bled. They did this for days. Every day I was forced to fuck strangers until I couldn't move. My dad always kept the camera rolling for his viewers. More and more they want to see more horrific things. What do you think they'll do next?