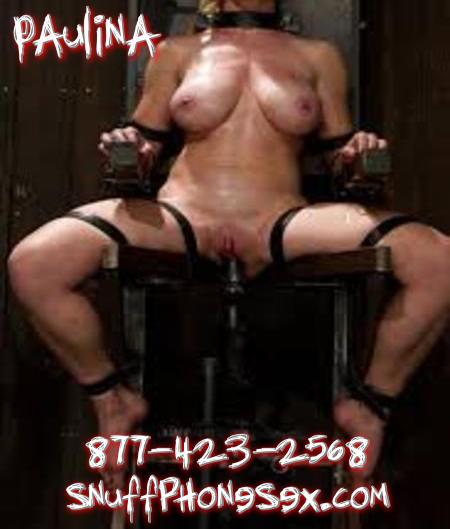 …the condemned stumbles a little while I am pulling her to the execution chamber. "Come on you dead whore, dragging your feet isn't going to save you, just postponing all the fun things I'm going to do to you." She started to sniffle and cry, I laughed to myself. You're going to go out there whoring and killing other whores so you get more business with no remorse, but now it's your turn to die and all you can do it feel sorry for yourself. "Move bitch that sniffling shit doesn't work on me."
Finally in the electrocution chamber and I remove the cuffs from the dead woman walking and push her down onto the chair. Once I have her all strapped down I put a metal pole into a piece on the floor and secure it. I take the center ring from the nipple and pussy clamps and pull it until it is on the other side of the pole, pulling her clit and nipples out too far. She starts to scream her head off as the skin around her nipples starts to rip from the pulling. She's strapped to the chair and can't lean forward to relieve the pulling and I can feel my cock getting hard. A hole was cut in the bottom of the chair for any bodily fluids but I use it to put an inflating dildo in her pussy and her ass. I pump both up until she starts to scream even louder. I laugh, this is fun. Of course, as an officer of the court, I have to do all the usual crap, even for this worthless bitch. I read her the sentencing garbage and ask for any last words. "Fuck you pig" was the only thing this stupid bitch could think of to say.
I remove the clamps attached to the ring and she screams again, I laugh to myself again mainly because she has no idea what is coming next. I attach electrodes to her nipples and clit; from under the chair I put a dildo in her ass and another in her pussy. Those were not ordinary dildos though, each of the pieces I attached to her or put in her are all wired to the electrical panel on the wall. I put the electrodes on her head, and I connect all the wires to a small box behind the chair. Her eyes are wide open as she watches me walk to the pull switch. She starts to scream and try to get out of the chair, but she is too well strapped down. I turn back to look at you and pull the lever. I turn around and fold my arms until you stop moving. You look up and I have a big smile. "That was only the lever to turn all your devices on." I laugh sadistically at her and walk up to whisper in her ear. I told her that she dies when she cums because this device measures your nipples, clit, and asshole for orgasm. "Once you cum, the electricity will flow thru you like a river." I take a vibrator and put it on low. Why low? The longer her orgasm lasts the longer it will electrocute her. It takes about 35 minutes, I can tell the bitch is hold back so I reach under the chair and start fucking her with the dildo in her pussy, and like any whore, she started to cum almost right away. I let go of the dildo and watch as she cums and dies all at the same time.